Carbide Endmill, E460 R40/42 VA, DIN6527L – Harmony
£33.23 – £189.14
Carbide Endmill, E460 R40/42 VA, DIN6527L – Harmony
Description
Carbide Endmill, E459 R40/42 VA, DIN6527L - Harmony, 4 flute VHM-ULTRA grade of carbide for high performance. Excellent solution for stainless steels tough materials. 
If helical plunging/ramping and side milling is required with 1 tool, then
this is the ideal design. The endteeth geometry has high relief & chip space to enable an efficient process, without the need to drill a hole.
Range
Features
Application
Specification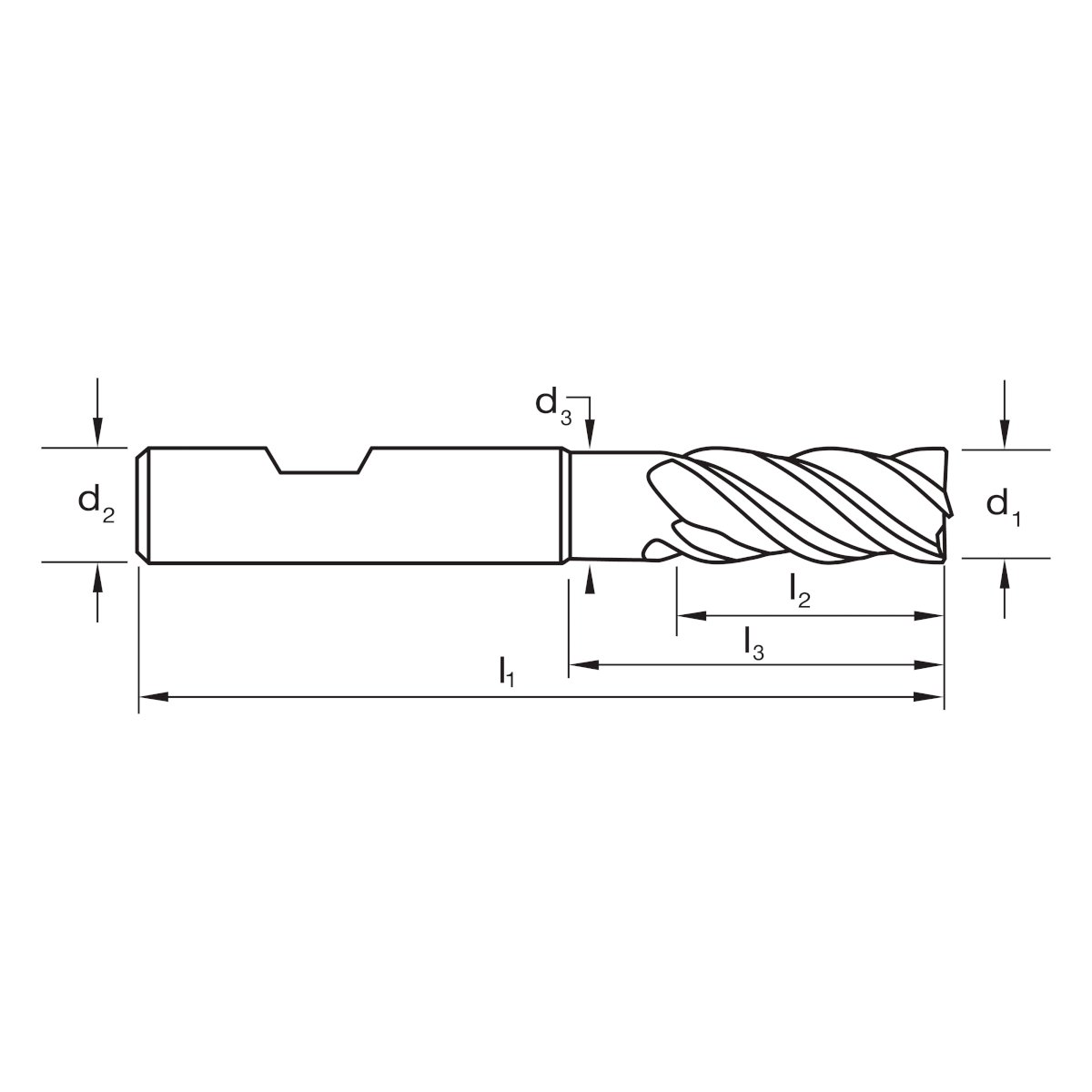 pitem
diameterd1mm
diameterd1inch
lengthl1mm
lengthl2mm
lengthl3mm
diameterd2mm
RRP
(inc GST)
Image
Info
E4600300
3.00
NA
57
8
14
6
£33

E4600400
4.00
NA
57
11
16
6
£33

E4600500
5.00
NA
57
13
18
6
£33

E4600600
6.00
NA
57
13
19
6
£33

E4600800
8.00
NA
63
19
25
8
£38

E4601000
10.00
NA
72
22
30
10
£56

E4601200
12.00
NA
83
26
36
12
£71

E4601400
14.00
NA
83
26
36
14
£98

E4601600
16.00
NA
92
32
42
16
£124

E4601800
18.00
NA
92
32
42
18
£156

E4602000
20.00
NA
104
38
52
20
£189
Excellent solution for stainless steels & difficult super alloy type materials
Optimised geometry with variable helix design ensures high productivity
Suitable for slotting, side cutting and finishing applications with the one tool
HELICA for outstanding oxidation resistance and hot hardness
VHM-ULTRA grade of carbide for high performance
| ISO | VDI | Description | Condition | Hardness | Strength | Optimal |
| --- | --- | --- | --- | --- | --- | --- |
| P | 12 | Steel - Corrosion resistant & cast - Ferritic / Martensitic | Annealed | 200 | 680 | |
| P | 13 | Steel - Corrosion resistant & cast - Martensitic | Quenched & Tempered | 240 | 810 | |
| M | 14.1 | Stainless Steel - Austenitic | Age Hardened | 180 | 610 | |
| M | 14.2 | Stainless Steel - Duplex | | 250 | 840 | |
| M | 14.3 | Stainless Steel - Precipitation Hardening | | 250 | 840 | |
| S | 31 | High temperature alloys - Fe based | Annealed | 200 | 680 | |
| S | 32 | High temperature alloys - Fe based | Age Hardened | 280 | 950 | |
| S | 33 | High temperature alloys - Ni / Co based | Annealed | 250 | 840 | |
| S | 34 | High temperature alloys - Ni / Co based | Age Hardened | 350 | 1180 | |
| S | 35 | High temperature alloys - Ni / Co based | Cast | 320 | 1080 | |
| S | 36 | Titanium & Titanium alloys - CP Titanium | | | 400 | |
| S | 37.1 | Titanium & Titanium alloys - Alpha alloys | | | 860 | |
| S | 37.2 | Titanium & Titanium alloys - Alpha / Beta alloys | Annealed | | 960 | |
| S | 37.4 | Titanium & Titanium alloys - Beta alloys | Annealed | | 830 | |
| S | 37.5 | Titanium & Titanium alloys - Beta alloys | Age Hardened | | 1400 | |
KEY
Point Form
45° Corner Chamfer