Prima Tooling's range of drilling tools include: Dowel Drills, Through Hole Drills, Hinge boring Drills, Plug Cutters, Counterbore Drills and Twist Drills.
As a tooling  manufacturer we are able to produce these tools to any specification as well as stock sizes.
Our Drilling Tools are Tungsten carbide tipped as standard. However, we can also manufacture any of our Drills with PCD Tips, with High Speed Steel or as Solid Carbide Tooling.
Colour coded in black or red for right and left hand, for easy identification.  With our HSS tooling in green.  
TCT Hinge Boring Bits
Application
Drilling Tools for Hinge hardware holes in solid woods & panel materials
for hardware hinge machines, automatic boring machines and CNC machining centers

chip free hardware holes in veneered, laminated and raw panel materials with scoring cut of the spurs

2 rakers, 2 spurs and is available with or without a brazed centering point

Tungsten Carbide tipped bit

large resharpenable area

adjusting screw for length adjustment

cylindrical shank with clamping surface

clamping device: combi chuck quick-change chuck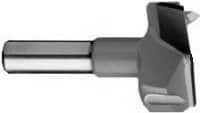 TCT Lip and Spur Dowel Drill Bits
Application
Drilling Tools for through-holes in solid woods & panel materials
for stationary boring machines, automatic boring machines and CNC machining centers

2 v-point cutting edges (60 ° angle)

Tungsten Carbide tipped bit

cylindrical shank with clamping surface

adjusting screw for length adjustment

spiral without back guide

clamping device: combi chuck quick-change chuck

TCT Through Hole Drill Bits
Application
Drilling Tools for through-holes in solid woods & panel materials
for stationary boring machines, automatic boring machines and CNC machining centers

2 v-point cutting edges (60 ° angle)

Tungsten Carbide tipped bit

cylindrical shank with clamping surface

adjusting screw for length adjustment

spiral without back guide

clamping device: combi chuck quick-change chuck