Slatwall Tooling is available with either  PCD or Tungsten Carbide tips.
Prima Tooling's Slatwall or T-Slot tooling is used to accommodate Aluminum or plastic extrusion insert profile. Resulting in the best possible fit.
Slatwall Tooling is specifically designed for cutting T-Slots in particle board, HDF raw or coated.
Used in the manufacturing of slotted wall panels for display or shop fitting purposes.
Most Slatwall has an MDF core therefore, wearing out a carbide tipped bit very quickly.
PCD polycrystalline Diamond Tooling is recommended for Slatwall machining. Initially more expensive, providing cost savings long term.
Usually T-slots are not re-sharpened due to the loss of dimension accuracy.
However, we are able to resize the tool to its original dimension.  By moving the tips, maintaining the diameter of the tool, thus, keeping the production of the wall panel consistent.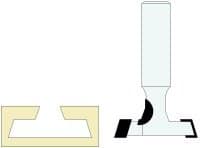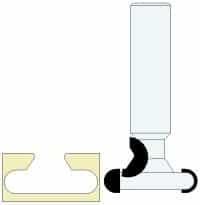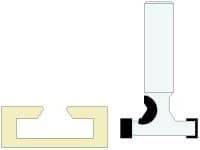 We manufacture many variations, used by Slat wall companies over the globe.  Including straight, chamfered edge and rounded edge, for example.  Finally, the option of a single tip on the neck of the tool is available.
A sample of the cut, insert or a CAD drawing is required for accuracy.
Once the tool is designed, a CAD drawing is sent for agreement prior to manufacturing.
Once again... Defining the Detail...