Carbide Endmill, E465 R40/42 Ti, DIN6527L- Harmony
£102.69 – £242.66
Carbide Endmill, E465 R40/42 Ti, DIN6527L- Harmony
Description
Carbide Endmill, E465 R40/42 Ti, DIN6527L- Harmony, 5 Flute AlNova for outstanding oxidation resistance and hot hardness,
This is the best solution for trochoidal milling strategies, as the 5 flute design
provides the optimal productivity when considering Metal Removal Rates (min/cm3). Longest tool life is through a combination of specialised carbide
grade, geometry that suppresses chatter, ultra smooth surface finish for cleaner cutting of the material and a specific PVD coating developed to resist wear in machining titaniums. The component quality is very high without burrs, even when taking semi‑roughing type cuts.
Range
Features
Application
Specification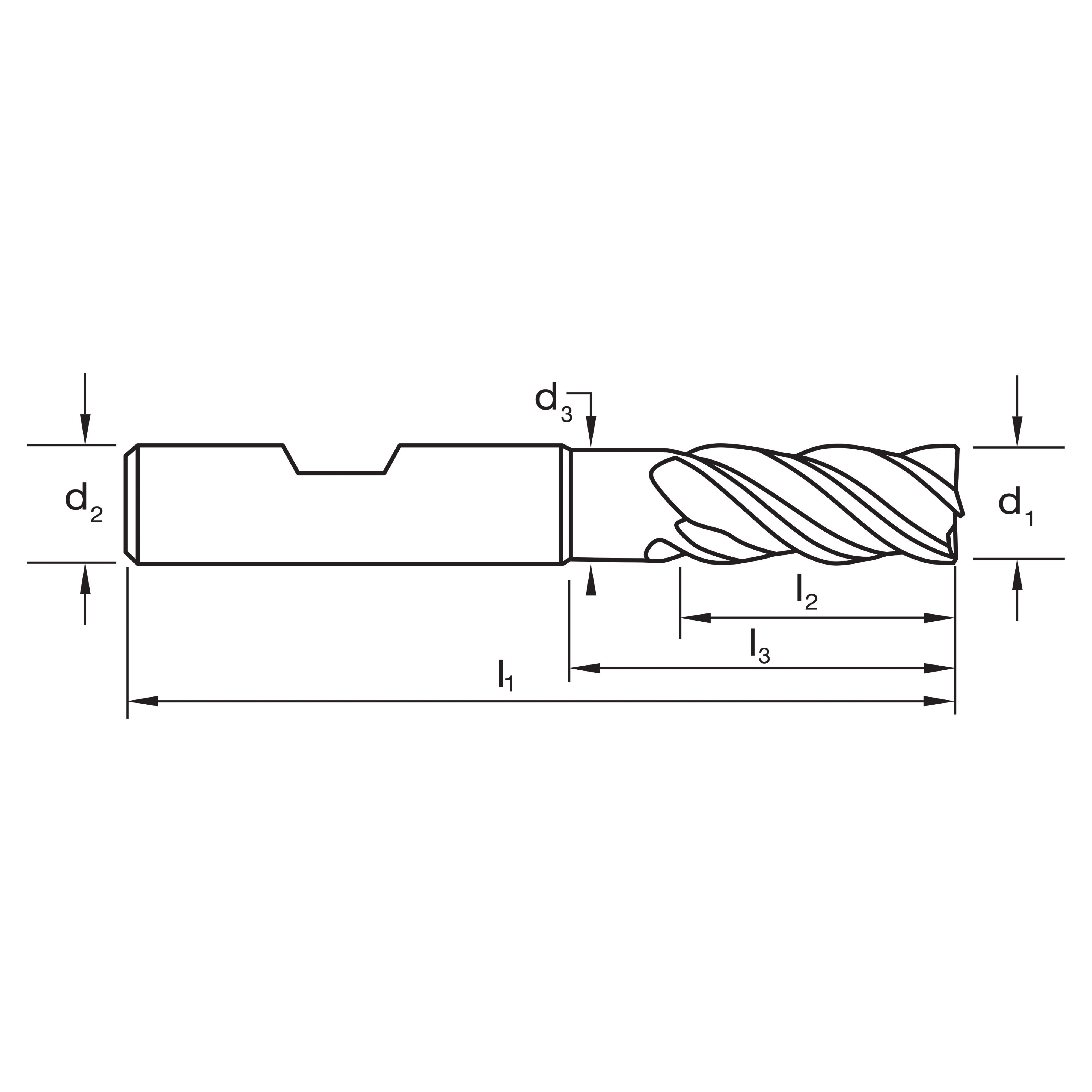 pitem
diameterd1mm
diameterd1inch
lengthl1mm
lengthl2mm
lengthl3mm
diameterd2mm
RRP
(inc GST)
Image
Info
E4651200
12.00
NA
83
26
38
12
£103

E4651600
16.00
NA
92
32
44
16
£165

E4652000
20.00
NA
104
38
54
20
£243
Optimised design for Trochoidal milling strategies in Titanium Alloys
Variable helix design to suppress vibration
Web taper to increase rigidity
AlNova for outstanding oxidation resistance and hot hardness
Carefully selected carbide grade for Ti Machining
| ISO | VDI | Description | Condition | Hardness | Strength | Optimal |
| --- | --- | --- | --- | --- | --- | --- |
| S | 37.1 | Titanium & Titanium alloys - Alpha alloys | | | 860 | |
| S | 37.2 | Titanium & Titanium alloys - Alpha / Beta alloys | Annealed | | 960 | |
| S | 37.3 | Titanium & Titanium alloys - Alpha / Beta alloys | Age Hardened | | 1170 | |
| S | 37.4 | Titanium & Titanium alloys - Beta alloys | Annealed | | 830 | |
| S | 37.5 | Titanium & Titanium alloys - Beta alloys | Age Hardened | | 1400 | |
KEY